Las Vegas Mobile Digital Billboard Advertising
Research shows that 77% of Las Vegas visitors indicate they have seen a Mobile Billboard more than any other form of media! 53% can remember specific advertising featured on Mobile Billboards!
Digital Billboard ads allow for more creativity and quicker responsiveness to market change. With the power of an instant content delivery system, there are no limits on opportunities for changes and updates as needed.
Las Vegas Mobile Billboard ads reach a significant number of both local and visiting consumers, making it an ideal platform to market national and international brands.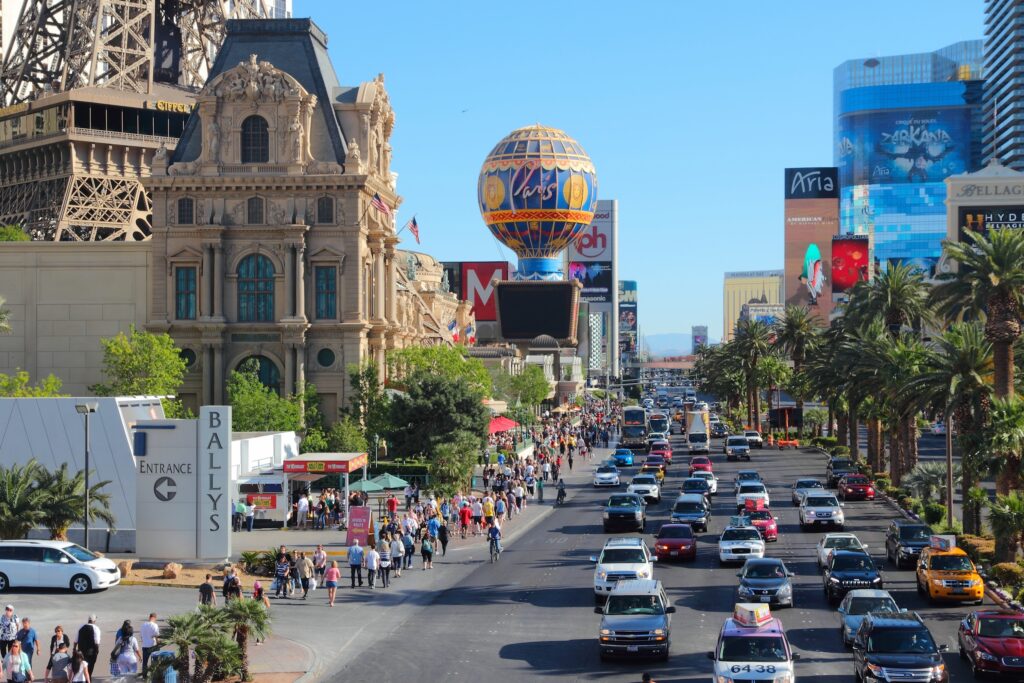 Vegas Stats & Facts
Las Vegas is the #1 US tourist destination and ranked in the top 5 for international travelers.
Typical, monthly visitor volume exceeds 3.2 million people, averaging 42 million tourists per year.
There are over 17,000 people walking on the Las Vegas Strip every hour. In comparison, the average Super Bowl attendance is 77,987, which is equivalent to only 4.5 hours of Mobile Billboard viewership on the Las Vegas Strip.
The average visitor spends approximately 4.1 hours walking on the Strip, visiting around 6.2 Strip properties.
73% of Las Vegas visitors stay at a Strip property. ( 2.3 million per month )
The Las Vegas visitor turnover rate is every 3.5 days.
(Information courtesy of the Las Vegas Convention & Visitors Authority Visitor Statistics Reports)
Las Vegas Demographics
LAS VEGAS VISITORS
• 50/50 Male/Female
• 74% Married
• 72% Employed & 17% Retired
• 77% College graduate or some college
• Average age: 44
• Median Household Income: 45% over $80,000/year (68% over $60,000/year)
• Visitor Origin: 84% USA (52% Western states)
(LVCVA Las Vegas Visitor Profile 2017)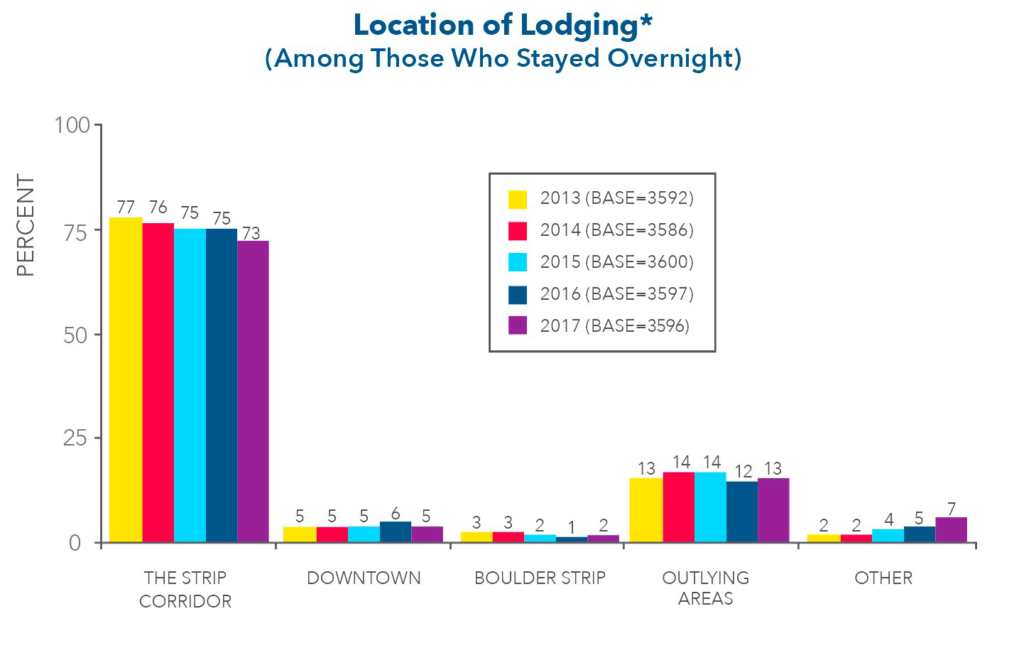 Out Of Home Advertising (OOH)
• OOH reaches a higher percentage of population, more than any other advertising medium.
• OOH generates an approximate ROI of $2.80 in sales per $1.00 spent, compared to an ROI of $2.43 for TV, and $2.41 for print.

• OOH drives more online activity per ad dollar spent than any other form of traditional media.
• 85% of all consumers believe OOH is useful, 83% believe it is informative, and 82% say it creates jobs and stimulates the economy.
• OOH outperforms traditional media with a low $2.50 CPM (cost per thousand)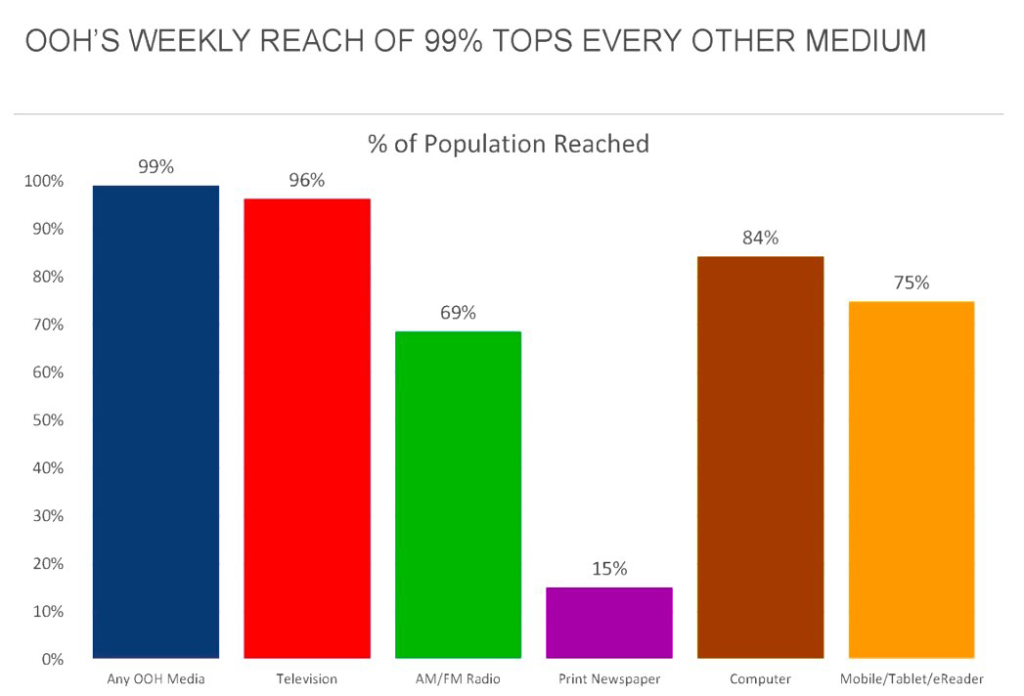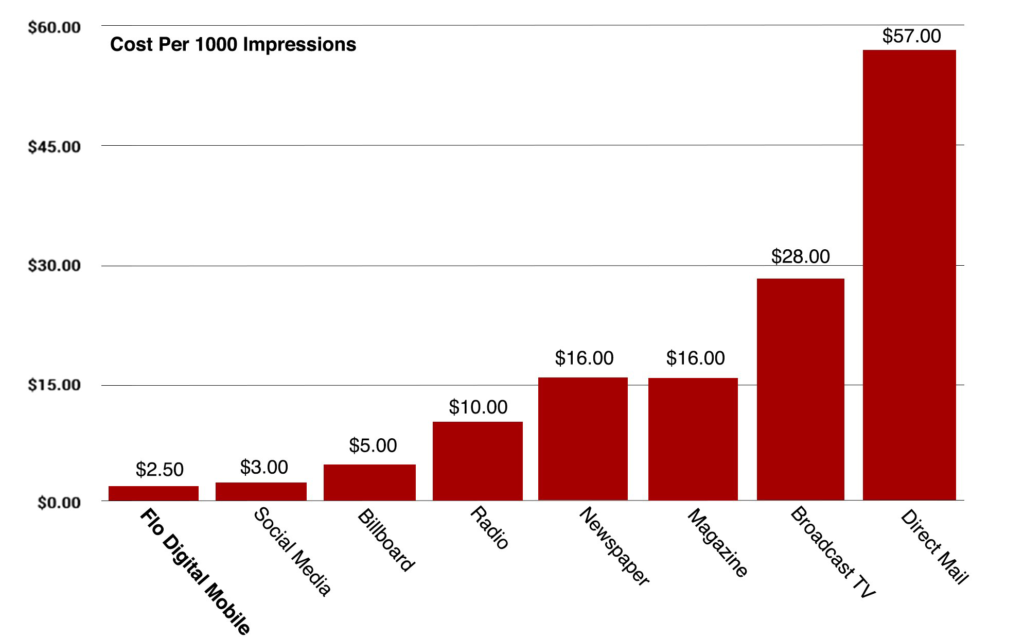 OOH Advertising Stats & Facts
Adding OOH To Other Advertising Medium Can Potentially Increase Reach By Up To 300%
OOH Builds Brand Affinity At Levels Equal To TV